Peat-free gardening
Is gardening without peat possible?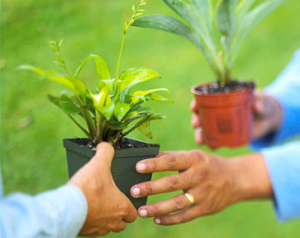 Of course! Ironically, peat makes your garden acidic. There are plants that like this, but most plants don't. Peat retains water and minerals well, but many sustainable products such as leaf compost or mixtures based on coconut or wood fibers do just as well. Maybe even better… Good to know: Even De Hortus Amsterdam with its immense assortment of plants manages (almost) entirely without peat!
Over de kwaliteit van een turfvrij product hoef je je zeker geen zorgen te maken
Where can you buy peat-free potting soil?
Awareness of the ecological vandalism surrounding peat is almost non-existent in the Netherlands. Other countries, such as the UK, have adopted policies to phase out the use of peat. The Netherlands is not doing much yet.
Unfortunately, we see this reflected on our shop shelves. Peat-free options can be hard to find.
Below, you find some peat-free potting ground options. But also check whether you really need potting soil. For most purposes you can use peat-free garden soil and this is much easier to get than peat-free potting soil.
Bio-Kultura can be bought online and at various points of sale.It still contains some peat moss, which should be replaced by the end of 2021.
Fertila Biologische Potgrond - 100% peat-free can be bought online from kwekerij Abbing in Zeist.
Ecotuintje sells peat-free, organic and vegan soil and even peat-free cultivation pots.
Organic nutrition centre sells potting ground based on the residues of the champignon cultivation.
Tardy sells natural compost. You can fetch it at Castricum of Alkmaar.
Pokon sells a peat-free waterproof planting ground.
There are a few alternatives based on coco fibre, but these are not without their own set of problems (transport, plantations...).
Where can I buy plants without peat?
Finding plants grown in peat-free soil is even harder. Still, we managed to find some sources:
Bastin kwekerij: Peat-free grown plants to be ordered online. Aalbeek (Limburg)
Hessenhof: Organic and peat-free grower from Ede (Gelderland).
Dependens: Organic and peat-free grower from Bennekom (Gelderland).
Arjan Schepers Vaste Planten (Mariënheem, Overijssel) uses and sells his peat- and coco-free potting soil.
Liefhebbersplanten (Winkel, Overijssel) use substrates from Bio-Kultura.
De Tuinstek (Wieringerwaard, Noord-Holland) is almost there: they use 5% peat in the potting soil for their seedlings.
Ninabel kewkerij (Boerakker, Groningen) works peat-free.
If you know about other potting soil producers and growers who work peat-free, please let us know (contact).
If potting soil is not labelled peat-free, then you can presume that the main component is peat. Watch out, the label organic potting soil does not mean peat-free!
Watch out! The European Ecolabl does not allow the use of peat. Most other (eco-) labels like MPSor RHPallow the use of high percentages of peat.
Get active!
Ask your local garden center to have peat-free products on their shelves. You can make a big difference!